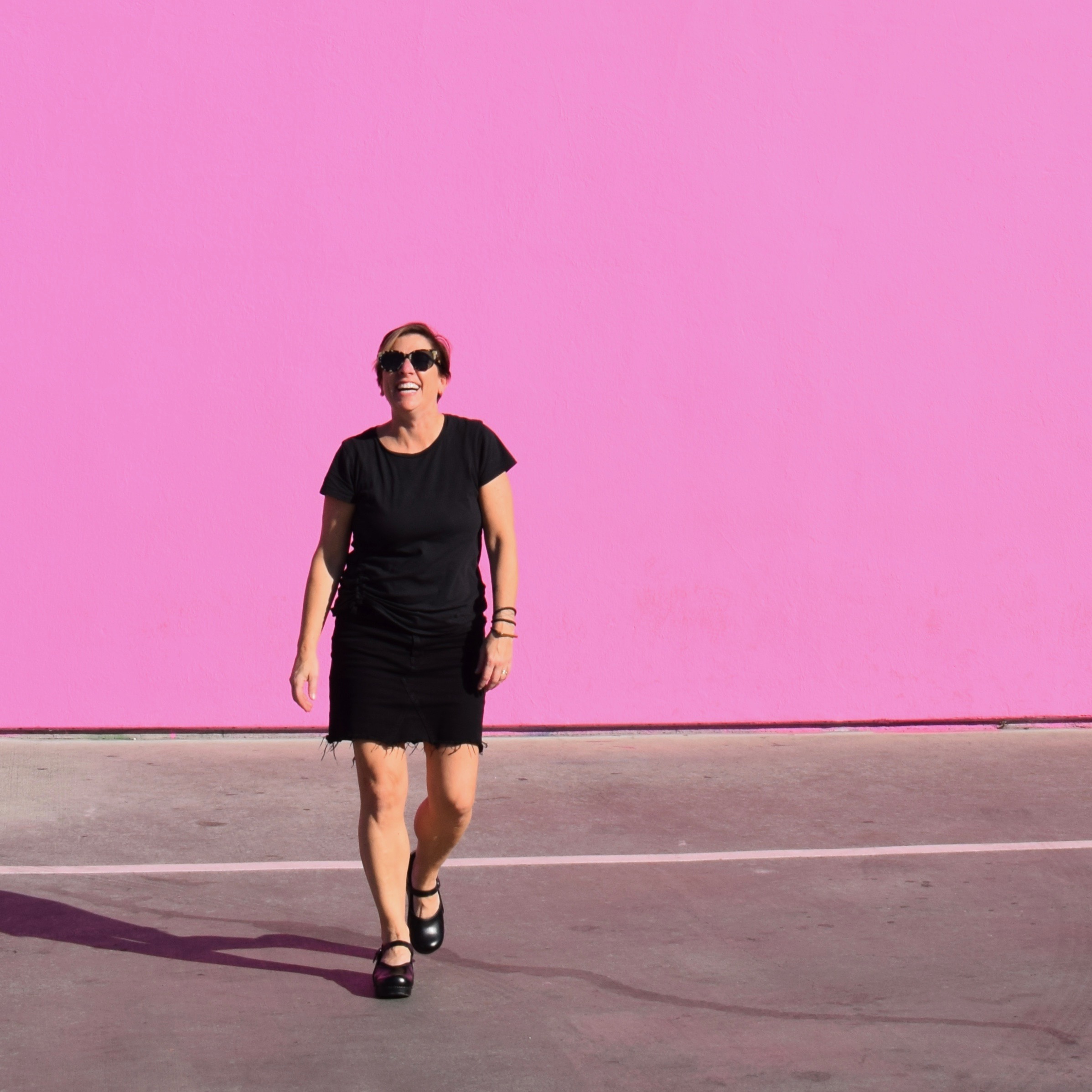 Melissa is a sculptor based in Philadelphia. She creates graffiti, soft sculpture, and large-scale installations using knitted and crocheted yarns. And other stuff. She sews unconventional quilts using vintage fabrics and subversive text. Her general work ethic can be considered fast and furious. She hates the color pink.
Actually, she hates most colors.
After attending a long list of East Coast art schools studying sculpture, painting and printmaking, her career began in New York City in the 1990's. Eventually, Life led her back home to Philadelphia, where she lives with her husband and daughter.
Melissa's work has been shown in galleries and museums and is held in private collections throughout the United States. In 2014 she was featured on an A&E network television program about artists who make work out of unusual materials. She has been yarn bombing internationally since 2010.
Ms. Haims has been exhibiting at contemporary art fairs since 2011. During Art Basel Miami she was awarded the Tomorrow Stars prize at Verge Fair in 2011, and was invited to show public installations in 2012, 2013 and 2014. In 2015, she was nominated for the Pulse Prize at the Pulse Contemporary Art Fair in New York City during Armory Week. Recently she has been featured at SPRING/BREAK Art Show in New York and Spectrum Fair in Miami.
Education
1996 / BFA Painting / University of Rhode Island
1996 / BA Marine Affairs / University of Rhode Island
1992 / Sea Education Association / Woods Hole Oceanographic Institute / Boston University
1991 / Tyler School of Art / Temple University
1990 / Parsons School of Design
1990 / New School for Social Research
1989 / Moore College of Art + Design
1989 / Philadelphia College of Textiles + Science
Fellowships + Awards
2017 / Trocaire Leadership in the Arts Award / Gwynedd Mercy Academy / Gwynedd, PA
2015 / Pulse Prize / Nominee/ Pulse Contemporary Art Fair / New York City, NY
2014 / Artist of the Year / Nominee / RAD Girls / Philadelphia, PA
2014 / National Book Award / My Favorite Friend / Blurb.com
2013 / Best in Show / Fabrics + Fibers / Markeim Arts Center / Haddonfield, NJ
2011 / Tomorrow Stars Award / Verge Fair / Art Basel Miami
2011 / New Courtland Fellowship / Center for Emerging Visual Artists / Philadelphia, PA
Curatorial Projects
2019 / Lit / Crawford Gallery / Philadelphia, PA
2019 / Selections from the Permanent Collection / Crawford Gallery / Philadelphia, PA
2019 / Welcome to the Funhouse / SPRING BREAK / Art Show / New York, NY
2018 / Achromatic / Crawford Gallery / Philadelphia, PA
2017 / Achromatic / Mount Airy Contemporary / Philadelphia, PA
2016 / Design Philadelphia at Park Towne Place with InLiquid / Philadelphia, PA
2014 / Domesticity with InLiquid / Satellite Art Fair during Art Basel / Miami, FL
2012 / Stitch Witchery / Nichols Berg Gallery / Philadelphia, PA
Select Solo Exhibitions
2016 / Wrapped Up / The Morris Arboretum of the University of Pennsylvania / Philadelphia, PA
2016 / The Foragers / Schuylkill Center for Environmental Education/ Philadelphia, PA
2015 / Pulse Contemporary Art Fair / Featured by InLiquid / New York City, NY
2014 / In Retrospect: 10 Years of Fiber Arts / The Painted Bride / Philadelphia, PA
2013 / Spring Forward: Contemporary Fibers in Historic Homes / Philadelphia Museum of Art
2013 / Offering / 3rd Street Gallery / Philadelphia, PA
2012 / Cold Comfort / Schuylkill Center for Environmental Education / Philadelphia, PA
2013 / Purge / 3rd Street Gallery / Philadelphia, PA
2009 / Heaven and Hell / Highwire Gallery / Philadelphia, PA
2008 / Short Stories / The Showroom / Philadelphia, PA
1998 / Boxes / Kavehaz Gallery / SOHO / New York City, NY
1997 / Memory Dresses / Sai Gallery / SOHO / New York City, NY
1996 / Finding Family / Stephen Gang Gallery/ Chelsea / New York, NY
Select Group Exhibitions
2017 / The Woodmere Annual / Woodmere Art Museum / Philadelphia, PA
2017 / Art in the Age of Injustice / Women's Caucus for the Arts / Philadelphia, PA
2017 / Feminist Fiber Arts / Virago Gallery / Seattle, WA
2017 / Conversations / Philadelphia Sculptors / Legend Gallery, Philadelphia, PA
2016 / The Faces of Politics: In/Tolerance / The Fuller Craft Museum / Brockton, MA
2016 / Between the Threads / Rowan University / Glassboro, NJ
2016 / Natural Threads / Heritage Museum and Gardens / Sandwich, MA
2016 / By Hand / Blue Line Gallery / Roseville, CA
2016 / Black Lives Matter / Gallery 51 at MCLA / North Adams, MA
2015 / Bushwick Arts Weekend / Pop Up Gallery / Brooklyn, NY
2014 / Multiples: Critical Craft and Fine Art Fair / Chicago, IL
2014 / Reanimate / Philadelphia Sculptors / Pop UP Gallery / Philadelphia, PA
2014 / Four Corners / The Painted Bride / Philadelphia, PA
2013 / Out of the Loop / West Hartford Arts League / Hartford, CT
2013 / Renegade / Rockwell Gallery, Ridgefield, CT
2012 / Stitch Witchery / Multiple Locations / Curator / Philadelphia, PA
2011 / Opposites Attract / Philadelphia Sculptors / University of the Arts/ Philadelphia, PA
2010 / New Visions IIII / Goggleworks Center for the Arts / Reading, PA
2010 / The Journey / Philadelphia Sculptors / URBN Gallery / Philadelphia, PA
2009 / On the Fringe of Fiber / City Hall Gallery / Philadelphia, PA
1998 / Women / Papp Gallery / SOHO / New York City, NY
1997 / Five Women, Quickly / Sai Gallery / SOHO / New York City, NY
Select Press + Publications
2016 / The Courier Post
2016 / The Boston Globe
2016 / The Patriot Ledger
2016 / The Philadelphia Inquirer
2016 / Broad Street Review
2016 / Newsworks.org
2016 / Knithacker.com
2015 / Fiber Art Now Magazine / Excellence in Fibers
2015 / The Sacramento Bee
2015 / Art News
2015 / Artnet News
2015 / The Philadelphia Inquirer
2014 / City Paper
2013 / The Knight Foundation
2013 / The Philadelphia Inquirer
2013 / Empty Kingdom
2012 / Newsworks.org
2012 / The Philadelphia Inquirer
2012 / The Knight Foundation
Professional Positions
2014 - Present / The Handwork Studio / Consultant / Narberth, PA
2008 - 2014 / The Handwork Studio / Curriculum Developer / Narberth, PA
2011 - 2013 / Fiber Philadelphia 2012 / Executive Team Member / Philadelphia, PA
1996 - 2007 / Corporate Interior Design / Various Companies / New York City + Philadelphia
Affiliations
2016 - Present - Women's Caucus for the Arts / Philadelphia and National
2013 - Present / Philadelphia Guild of Hand Weavers / Philadelphia, PA
2013 - Present / Surface Design Association Member / Philadelphia, PA
2011 - Present / Philadelphia Sculptors Member / Philadelphia, PA
2011 - Present / Inliquid Member / Philadelphia, PA